HOTEL LENHART
on Chautauqua Lake
Bemus Point, NY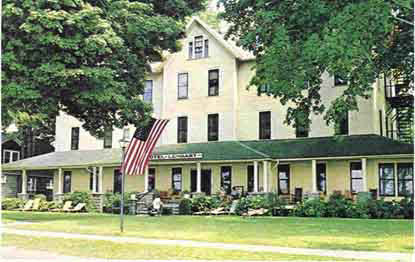 Hotel Lenhart
20-22 Lakeside Dr.PO Box 449
Bemus Point, New York 14712
(716)386-2715
---
Celebrating 142 years in 2022
The Hotel Lenhart and three residential houses are currently for sale and not under contract as of July 24, 2023. Pictures of the houses that we would like to sell with the hotel can be seen here
Inquiries for the sale should be to Ginger Johnson at Real Estate Advantage - 716-450-2110, gingerj2@hotmail.com 800 Fairmount ave, Jamestown, NY
Regreatfully we are not open for the 2023 season.
About The Hotel Lenhart
The Hotel Lenhart is located in Bemus Point, New York, facing west overlooking beautiful Bemus Bay on Chautauqua Lake. It has been owned and operated by the same family since 1880. The original Lenhart was built by Dr. J. J. Lenhart and his wife the former Dora Baldwin. We are now in the fourth generation of family ownership
The hotel has a main floor and three upper sleeping floors. We have a total of 53 rooms ranging from large parlor type rooms on the ground floor to small single bedded rooms on the top floor. The hotel was originally built without plumbing or electric and some rooms still do not have a bathroom, all rooms have a sink. There are two private baths on each floor for those rooms. We operate during our regular season, Memorial Day to Labor
The cocktail lounge, The Lamplighter Room, is located just off the lobby. The music is usually Big Band which was the favorite of our long time bartender, Jimmy Anderson, who sadly passed away in the spring of 1996.
The big feature of the Lenhart is the veranda that wraps from the side all across the front of the hotel. There are 40 of our famous multicolored rocking chairs for viewing the spectacular sunsets over Bemus Bay. Grab a chair early if you want a seat at sunset.
New news has been posted, click here.

Hotel Lenhart, PO Box 449, Bemus Point, NY 14712 - (716) 386-2715
Click here to e-mail for information: email Hotel Lenhart .

Information Links